<![if !vml]>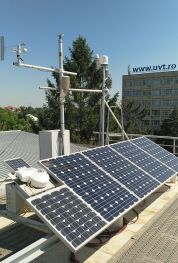 <![endif]>
The research on photovoltaics at the Physics Department of the West University of Timisoara has begun by 2000 and experienced an impressive development after the commissioning of the Solar Platform in 2008. The main component of the Solar Platform is the Solar Radiation Monitoring Station, the first Romanian radiometric station outfitted for systematic monitoring solar radiation on tilted surfaces.
Currently, the Solar Energy Research Group is focused on three well defined fields: (1) Modeling Solar Radiation at the Earth Surface; (2) Modeling the solar cells operation; (3) Forecasting the energy production of PV systems.
The team consists of eight researchers. The strength of the team stems from its diversity, being formed of researchers specialized in very different domains: physics, mathematics, statistics, astronomy and computer science.
News
WORKSHOP
PV power forecasting - 2022
West University of Timisoara
Room A11
20/05/2022
09:00 – 17:00